The Difference Between the Heavy Duty & Freestanding Partitions
When you think about Heavy Duty the first thing you think of is tough right? Heavy Duty is built to take a beating during heavy daily use such as the everyday hustle and bustle of the hospitality industry. This video describes the differences between the Screenflex Freestanding  Partitions and the Heavy Duty Room dividers.
Video Transcript:
Hi, I'm Steve with Screenflex. Hi, I'm Tina with Screenflex.  We would like to show you the difference between the Freestanding Room Dividers and the Heavy Duty Freestanding Room Dividers.  Our Freestanding Room Divider is a sturdy, well-built, dependable room divider built for everyday use.  Our Heavy Duty Freestanding Room Dividers are built for a more rigorous environment such as in the hospitality industry.  The first difference is in our support legs.  Our Freestanding model has a self-leveling caster system for support.  Our Heavy Duty model, has a dual wheel extra duty self-leveling support system and a reinforced extra wide support leg as well.  The other difference on our support legs is on our channel.  The Heavy Duty model has a deeper channel that wraps the panel which provides additional support.  We use a full-length piano hinge on both the Freestanding and Heavy Duty Room Dividers, but on the Heavy Duty Room Dividers, we use a piano hinge that is extra thick and extra strong.  A multi-unit connector is an option for out Freestanding Room Divider.  On our Heavy Duty model, it comes standard and enables two partitions to be connected together end to end for various lengths.   This Heavy Duty model has oversized extra strong corner casters.  We have also added an additional frame support which gives it more stability and allows us to mount our screen lock up higher making it easier to reach by hand.  In addition, there is an extra gusset plate at the bottom of the frame to give it even more support.  Lastly, our Heavy Duty model has added top gusset plates for extra support.  Thank you very much.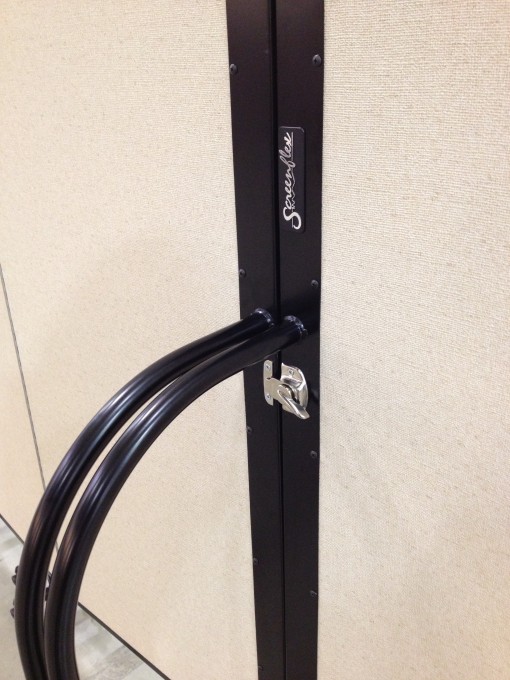 Our best selling divider is our Freestanding room divider.  However, if you are looking for a partition that will exist in an environment such as that of a hotel or banquet hall, you might want to consider our Heavy Duty model. For more information, visit us at Screenflex.com or call us at 1-800-553-0110.