When in need of a large surface space to display artwork, educational material or any other important pieces of information, select one of the Screenflex display towers. We have more than two decades of industry experience, and over the years we've learned that, more than anything, our customers appreciate the diversity of use. Considering, we have focused on creating a wide range of room dividers – today, you can find them in any height, length and design, and are as such bound to accommodate your specific requirements.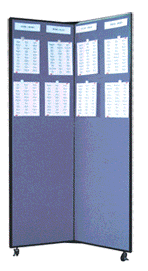 Screenflex display towers are:
Sound absorbing
Tackable
Durable and stable
Easy to assemble
Our portable partitions will serve as mobile information stations that can be assembled and disassembled in a matter of moments. This means that you can utilise them temporarily when the need for them arises and simply pack them up in a corner when you are done.
What sets Screenflex display towers apart is their stability – all of our portable partitions are made from steel frames and come with locking caster wheels. This means that once you place the tower in a corner (or even in the middle of a hectic room), it's bound to stay intact. Our room dividers also come with self-leveling glides that ensure stability on uneven surfaces.