Logo Printing on Room Dividers
Market: Corporate
Uses: Convention Center, Corporate, Education, Elementary School, Government, High School, Hospitality, Hotels, Manufacturing/Warehouse, Middle School, Multi Purpose Room, Mural and Logo Printing, Museum, Office, Party Room/Amusement Facility/Attraction, Religious, Restaurant, Salvation Army, Schools, Training Lengths: 3 panel 5'-9" Heights: 6'-0"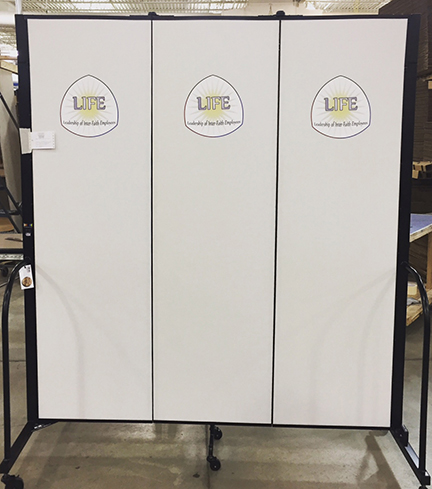 The Location
Life Leadership of Inter-Faith Employees
The Challenge
Backdrop for outreach events
The Solution
Custom Logo Printing
Customize any size fabric room divider with your unique logo printing.  More elaborate logos can be applied to any vinyl covered Screenflex room dividers.  Choose the placement of your logo and the number of panels to place the logo on.  The factory applied logo can withstand the rigors of any environment.  36 size room dividers and 38 fabric and vinyl Colors to choose from.